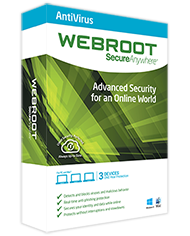 There's a great deal of similarity between most antivirus products. They take about the same amount of time to install, update, and scan. They're about the same size when it comes to disk space. And they use signature-based malware detection plus some heuristic or behavioral components.
Webroot SecureAnywhere AntiVirus doesn't fit with the rest at all. It installs in a flash, doesn't require signature updates, scans much more quickly, and takes a ridiculously small amount of space on disk. On top of that, its unconventional techniques do an impressive protection job.

Installation : 9/10
Webroot's installer is famously tiny; it would fit on a 3.5" diskette, if you could find one. The installed program is hardly bigger. Launch the installer, insert your keycode, click a button, and it's off to the races.
The actual installation of the program itself is done in a flash. The installer goes on to perform a number of other tasks. Webroot claims compatibility with virtually every other antivirus, but it does check for incompatible software. It analyzes installed applications, optimizes its configuration for your particular system, and establishes a "system baseline" for reference. Most importantly, it runs a full scan.
The average antivirus takes about 30 minutes to scan my standard clean test system. Webroot does the job in less than five minutes. Installing Webroot and running that scan takes less time than simply installing and updating most antivirus products.
Ransomware on one of my test systems makes the desktop inaccessible, so a normal installation isn't possible. Webroot tech support guided me to their bootable rescue environment. Unlike most, this isn't a Linux based antivirus scanner. Rather, at bootup it contacts tech support directly for a remote-control hands-on repair session. The support agent manually modified Registry entries to prevent the ransomware from launching. After that, I had no trouble with installation. Webroot installed without incident on the other eleven test systems.
After every scan that finds and removes malware, Webroot runs another scan to make sure everything has been cleaned thoroughly. It's actually reassuring, and since the scan is so quick, it's not a big imposition. Every test system required at least one re-scan after the initial install-time scan found malware. A few needed three or even four scans.
User Interface : 8.5/10
Webroot SecureAnywhere AntiVirus' interface remains unchanged from the previous version, with the exception of a tiny upper-right corner panel informing you whether antivirus protection has been enabled. Webroot's integration of Sophos is invisible; there's no separate configuration page for antivirus scans, which got us wondering how much antivirus protection exists within Spy Sweeper. To tweak scans for individual files or folders, simply use the Spy Sweeper configuration screen.

Webroot SecureAnywhere AntiVirus' redesigned interface is crisp and intuitive, the result of many hours of user-interface testing. For example, we like that during a scan, the color-coded tabs on the scan page mark your progress: Sweeping, Quarantine, and Summary. Behind the scenes, Webroot triages all identified malware, sending the viral components to the Sophos engine and handling the other spyware components within the Spy Sweeper engine. However, upon closer inspection it is clear there are no protective settings to block incoming viruses from e-mail or IM.


Features : 8.5/10

Aside from antivirus protection, Spy Sweeper continues to provide first-class antispyware protection. Webroot uses protective shields to protect your hard drive, blocking spyware and adware as it attempts to download. Within the Spy Sweeper Sweep section there are three options. Full Sweep scans all the files on your computer's attached drives. Quick Sweep offers a fast and light pass of your main drive system. Custom Sweep allows you to select individual drives or folders or exclude extensions.

But we found that deep scans for rootkits, pernicious little malware packages that hide deep within the system kernel, are now optional. Webroot says that its advanced heuristic rootkit protection can be time (and possibly resource) intensive, so Spy Sweeper makes it an optional feature. With traditional antivirus packages, full rootkit protection, when offered, is enabled by default.

As previously mentioned, we also found aspects of traditional antivirus technology missing. Presently, Webroot includes only the On Demand Sophos virus inspection engine to check for and remove file infections. Missing is the Realtime Sophos virus engine that looks for active infections from e-mail, IM, and other vectors. Webroot says that functionality will come later, but it's a tad misleading to suggest that Spy Sweeper with Antivirus is a complete antivirus solution.

Performance : 8/10

In addition to adding the antivirus engine, it appears Webroot has made significant code tweaks under the hood to improve overall performance. In some cases they elected to make some scans optional. Thus, we found that Spy Sweeper used fewer system resources while scanning.

Check back in December to see how Spy Sweeper ranks among other antispyware apps at removing active spyware threats.

As for Spy Sweeper's reputation for software conflicts, that's improved as well. We installed Spy Sweeper with ZoneAlarm Security Suite 6.7.5 on the same test machine and experienced no difficulties or conflicts, even with two antivirus engines present. That's because the antivirus engine in Spy Sweeper is passive, invoked only when actively scanning your PC. In general, you should never have two antivirus applications running on the same PC.


Support : 8/10

Webroot supports Spy Sweeper by providing online FAQs, a 24/7 e-mail trouble ticket, and toll-free live telephone support located within the country of the caller (Webroot is particularly proud of this fact).

Conclusion
No other antivirus product comes close to Webroot when it comes to minimizing use of disk space. It's hard to believe something so tiny can do everything that it does. The independent labs don't have much to say about it, but in my own testing it did a very good job cleaning up malware-infested systems (with a little help from tech support). The enhanced phishing protection in this edition beat long-time phishing champ Norton.
Webroot treats unknown programs as benign until they actually do something malicious, so it doesn't necessarily fare well in malware-detection tests. But because it journals all activity by those unknowns, it can roll back every action by a program newly identitied as malicious. I put this feature to the test by cutting Webroot off from its cloud-based detection, launching malware samples, and then restoring the connection. It scored about the same as when it was allowed a continuous Internet connection.
Webroot isn't like most antivirus products, but different can be good; good enough to merit the designation of Editors' Choice.
Latest Webroot Promotional Offers
Coupon Code ACTIVATE OFFER HERE SAVE $30 on Webroot SecureAnywhere Internet Security Plus, Now $29.99, Reg.Price $59.99 Coupon Code ACTIVATE OFFER HERE SAVE $50 on Webroot SecureAnywhere Internet Security Complete,Now$29.99,Reg.price$79.99 Coupon Code ACTIVATE OFFER HERE SAVE more than 60% on Webroot SecureAnywhere 2014 Products Coupon Code ACTIVATE OFFER HERE SAVE $20 on Webroot SecureAnywhere AntiVirus, Now $19.99, Reg.Price $39.99
.